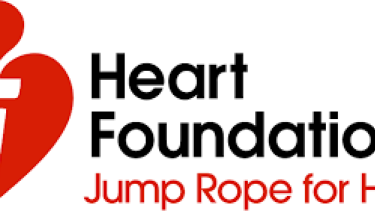 Our school is participating in Jump Rope for Heart again this year.  Our Jump event will be happening on Friday, May 26th in the afternoon. The whole school will be rotating through skipping stations.
We love participating in Jump Rope for Heart because:
Students learn life-long habits
Jump encourages kids to be active and live healthily.
Kids feel good by doing good: Students learn the importance of giving back as they collect donations that help fund critical research that saves lives, prevents heart disease and stroke, and supports survivors and their families.
Fits any time, place and activity: Kids can move their way by jumping, dancing, wheeling and more, on their schedule, at school or home.
The Heart and Stroke Foundations gives back: Schools that raise a minimum of $500 will receive 8% of their fundraising dollars back to put towards what they need most (think, sports equipment, or educational tools!).
Be part of the movement - register today!
Join our school and help Heart & Stroke save lives by jump-starting your fundraising.
Here's how: Visit jumpropeforheart.ca and click "Register" and search for our school's name
Help your child set up their fundraising page online. It's never been easier.
School Page Link: https://jumpropeforheart.crowdchange.ca/18625
Our school's donation page will stay open until Friday, June 9th.
As our heartfelt thank you for your support, students can earn one of five Thank You Prizes, an online gift card – from Toys "R" Us, Indigo, Amazon or Walmart – based on the fundraising levels.
Posted: May 25, 2023 - 1:35pm
Expires: June 9, 2023 - 12:00am